"Przejmujący. Temat nie został odpuszczony nawet na sekundę. Upilnowany, zdyscyplinowany i przepiękny." Tomasz Raczek
"Love it. It's a great film. Visually stunning. Apart from great pictures

there is a touching story in it."

JIM SHERIDAN
"An almost mythological story. A drama shouted in silence. Frozen images that penetrate deep into the subconscious and do not let you forget about them. I know where it cames from. I know this world."

A person who experienced the trauma of childhood sexual abuse. (Trauma & Nightmare Cience Conference, Gdańsk 2020)
EN
UMBRA
(latin) shadow, gloom, eclipse of the moon
"UMBRA / ECLIPSE OF THE MOON is a sumptuous, intoxicating visual journey through the subconscious of the soul as memories from things past, present and perhaps even from the future collide to reveal secrets buried within a woman's mind and heart.
Thanks to the trance nature of the images, UMBRA takes the viewer into the sphere of intuition, not intellectual analysis.
Thus, the symbolic image will serve as a bridge between the heroine's inner world and her story of trauma. From the symbolic images, one can read the nature of early wounds, disturbed relations with her family.
Trauma can be realistically portrayed in film by focusing on everyday problems of the victims, accusing the oppressors, denouncing injustice, or by raising trauma's social and legal aspects. Trauma can also be described through symbolic imagery. It is then that we have a chance to reach the inner world of trauma, describe the indescribable, elusive, irrational. The essence of the symbol is to combine what is conscious and unconscious, rational and irrational. Symbols merge different layers of reality without merging them into one. A symbolic narrative can, therefore, take place in several realities simultaneously. The interpretation of a symbol is the choice of one level of reality as the dominant one. In my film "Umbra" I speak symbolically of child sexual abuse and how it affects adult life. I ask philosophical questions about the truth and sense of existence, as well as theological questions about love and God in the face of experiencing evil. The story of child sexual abuse becomes an archetypal tale of evil initiation.
This is possible thanks to telling the story through symbolic images: "Whoever speaks in primordial images speaks with a thousand voices: he enthralls and overpowers… he transmutes our personal destiny into the destiny of mankind, and evokes in us all those beneficent forces that ever and anon have enabled humanity to find a refuge from every peril and to outlive the longest night." C.G Jung.
Child sexual trauma does not allow a child to develop properly, disrupting the entire spectrum of sexual behavior in adult life, causing fear of life, emotional death, lack of contact with reality, dissociation and self-destructive behavior, feelings of shame, guilt and loneliness.
The problem of trauma goes far beyond the sphere of psychological considerations. Trauma destroys faith in the meaning of life and undermines the existence of love."
URSZULA NAWROT
COPYRIGHT © URSZULA NAWROT
WATCH THE FILM FOR FREE
PL
UMBRA
(latin) cień, zaćmienie ksieżyca
"Symboliczna opowieść o poznawaniu siebie, docieraniu do najgłębiej skrywanych tajemnic ludzkiej duszy. Bez dialogów, w sposób poetycki, poprzez symbolikę obrazu, muzykę i taniec film dociera do typowych struktur wewnętrznych, organizujących traumatyczne doświadczenie człowieka we wczesnym dzieciństwie. Personalna opowieść kobiety molestowanej seksualnie, dzięki symbolicznym obrazom w jakich została ujęta, nabiera charakteru uniwersalnego.
Film można odczytywać poprzez różne jego warstwy. Jedną z nich i najszybciej dostrzegalną jest warstwa psychologiczna, która nie była nigdy celem tego filmu. Jednak z prawdziwego przeżycia, wyobrażonego w formie symbolicznej można z łatwością odczytać mechanizmy traumy takie jak: dysocjacja, fragmentacja pamięci, niezdolność linearnego opowiedzenia własnej historii, odtwarzanie traumy, autoagresja…
Film w sposób poetycki dociera do stanu wewnętrznego bohaterki, jej poczucia osamotnienia, braku kontaktu z rzeczywistością, poczucia winy, braku miłości a przede wszystkim sensu życia. Za sprawą transowości obrazów przenosi widza w sferę przeczuwania, a nie intelektualnej analizy. Pozwala wczuć się w stan bohaterki. W jej niemy krzyk i pytanie o sens ludzkiej egzystencji. Z tej perspektywy, film stara się uchwycić istotę bytu, gdzie nadużycie seksualne jest również traktowane symbolicznie.
Kiedy w tradycyjnym filmie fabularnym obserwujemy historię "realną", a tylko za pomocą tzw.: "insert shots" przenosimy się do świata wewnętrznego bohatera, aby poczuć jego nastrój, tak w Umbrze sytuacja z założenia jest odwrócona.
Poruszamy się po świecie wewnętrznym, jego strukturach i pewnym niejawnym porządku, który C.G Jung próbował opisać za pomocą teorii archetypu.
Symboliczny obraz zatem będzie tu pełnił funkcję pomostu między światem wewnętrznym bohaterki, a jej historią traumy. Z obrazów symbolicznych można odczytać charakter wczesnych zranień, zaburzonych relacji z jej najbliższym otoczeniem.
Mniej oczywiste będą tu warstwy filozoficzna i teologiczna, gdzie postawione zostały pytania o naturę ludzką, sens cierpienia, poznanie Boga i jego naturę, o miłość i sens istnienia. Jednak na koniec to bagaż życiowy widza, jego edukacja i wrażliwość decydują o tym, co dostrzega w obrazach filmu."
URSZULA NAWROT
Kopiowanie, wykorzystywanie jakiegokolwiek fragmentu tekstu bez zgody autorki lub umieszczenia źródła jest łamaniem prawa.
COPYRIGHT © URSZULA NAWROT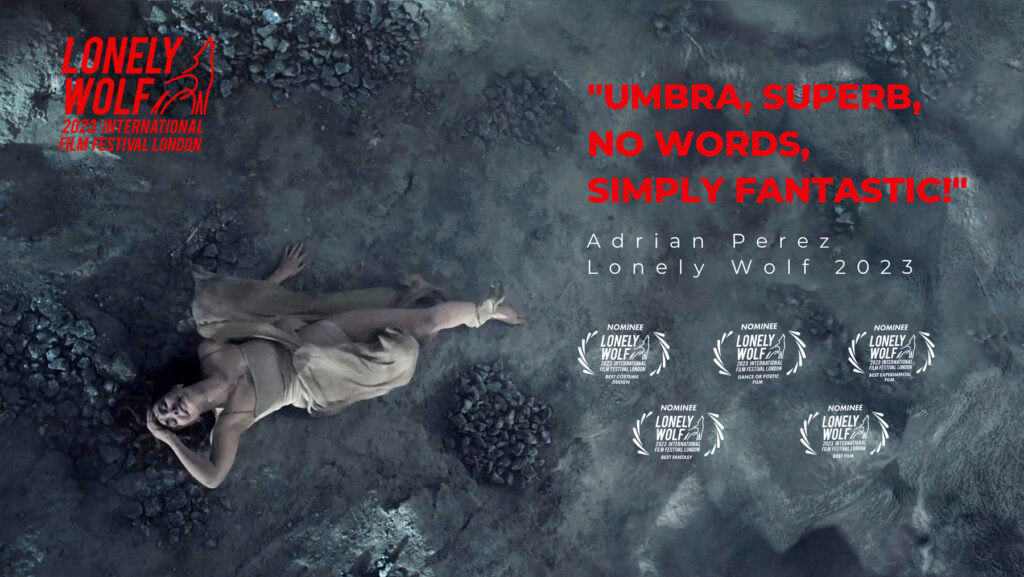 Prof. dr hab. Bogdan de Barbaro
PL
"Film "Umbra" uważam za niezwykle ważny: poprzez artystyczną metaforę, wieloznacznie, a zarazem dobitnie pokazuje, jak wielkim złem jest nadużycie seksualne dziecka. Dramat dziecka polega na tym, że jest poddane działaniom dorosłego, który wykorzystuje jego uczuciową bezradność. Dziecko nie rozumie co się dzieje, jest krzywdzone, a czuje się winne. Molestowane dziecko odnosi głębokie rany psychiczne, zraniony zostaje jego autoportret fizyczny, duchowy, emocjonalny i seksualny. Dewastacja psychiki odbija się na tej osobie przez wiele lat, nawet u dorosłego ta trauma trwa i ma bolesne skutki w życiu emocjonalnym".
EN
"I consider the film "Umbra" to be extremely important: through an artistic metaphor, it ambiguously and at the same time clearly shows how evil the sexual abuse of a child is. The drama of a child lies in the fact that it is subjected to the actions of an adult who takes advantage of its emotional helplessness. The child does not understand what is happening, it is hurt and feels guilty. A molested child suffers deep mental wounds, its physical, spiritual, emotional and sexual self-portrait is hurt. The devastation of the psyche is reflected in this person for many years, even in an adult this trauma lasts and has painful emotional effects."
SENS nr 06/117 JUNE 2018
AUTEUR CINEMA
title: UMBRA/Eclipse of the moon
written, directed, artistic concept: Urszula Nawrot
artistic advisers: Prof. Leszek Mądzik, Lech Majewski, Jack Gold, Andrzej Bartkowiak
cast: Urszula Nawrot – Alice, Leszek Bzdyl – Mefisto, Michalina Wiśniewska – child
music composer: Marek Kuczyński
cinematography: Urszula Nawrot and Grzegorz Hartfiel
(additional cinematography: Oskar Kozłowski, Olaf Malinowski, Maciej Puczyński)
edited: Urszula Nawrot, Milenia Fiedler
production designer: Urszula Nawrot
costume designer: Magdalena Major
make up: Natalia Zdrojek, Magdalena Danilewicz
choreography: Urszula Nawrot, Leszek Bzdyl
postproduction, SFX: EBH, 3de
colour correction: Przemysław Niedźwiedzki
sound design: DREAMSOUND, Filip Krzyżykowski
production: COPALFILM Urszula Nawrot
coproduction: TELEWIZJA POLSKA S.A., MAGIC PRODUCTION Sp. z o.o.
coproduction: TVP 2 Jerzy Kapuściński, Redakcja Marzena Podgórska, Produkcja Witold Będkowski, Magic Production – Magdalena Nowacka
production menager: Paweł Kurzacz
genre: art film / experimental/ auteur cinema / director film/ dance or poetic film/ symbolic
duration: 30 min
location: Poland
premiere: Festiwal Filmowy w Gdyni september 2015r
theatres premiere: 24 luty 2016r
GALLERY
AWARDS / NOMINEE
FROM FILM FESTIVALS
THE LIST OF AWARDS
New York City International Film Festival
1. Best International Short Film 2016
West Chester Film Festival
2. Best Female Director 2016
Art Film Festival Cannes
3. 2nd Prize; 2016
Action on Film Festival. Las Vegas
Polish Short Film Festival; 2017
4. Best Directing
5. Best Cinematography
6. Best Short
Women's Independent Film Festival, Los Angeles 2016
7. First Place Experimental
8. Best Directing
9. Best Cinematography
10. Best Editing
European Short Film Festival, Berlin 2017
11. Best scifi/horror
Art Movie Film Festival 2017
12. Best Experimental Short Film
Arte Non Stop Festival, Buenos Aires 2018
13. Best Medium Lenght Film
14. Best Female Direction Medium Length Film
15. Best Cinematography Medium Length Film
16. Best Actress Urszula Nawrot Medium Length Film
17. Best Actor Leszek Bzdyl Medium Length Film
Consonance Music and Dance Film Festival 2019
18. Best Art Dance Award
Anabelle Munro The Most Important Films and Scripts in the World 2021
19. Impact Award: Psychology
4 Seasons Film Festival, Barcelona 2019
20. Best Director
21. Best Photography
VIP Film Festival 2019
22. Best Actress – Urszula Nawrot
23. Best Choreography – Leszek Bzdyl, Urszula Nawrot
Fantastic Film Festival 2020
24. Best Director
25. Best Fantastic Art
Absurd Film Festival 2021
26. Best Cinematography
RED MOVIE AWARDS 2021, Reims Excellence Director
27. Best Short
28. Honorable Mention: Best Experimental
London Movie Awards 2022
29. Best Experimental
Paris Movie Awards 2022
30. Honorable mention: Producer:
Urszula Nawrot & Copalfilm, Magdalena Nowacka & Magic Production, TVP S.A.
8 & HalFilm Awards 2022
31. Best European Short Film
New York Movie Awards 2022
32. Best Inspirational Film 2022
New Age Cineams & Scripts
33. Jury's Choice Experimental Short
PAWS International Film Festival 2022
34. Best Experimental Work
Hollywood Gold Awards 2022
35. Gold Award – Experimental Film
International Gold Awards 2022
36. Best Experimental
Wisdom Tree International Film Festival 2023
37. Best Experimental Short Film
Frida Film Festival 2023
38. Best Art House Film
Prague International Film Awards winter edition 2022/23
39. Best Director Short Film
Mexico City Grand Festival 2023
40. Best Experimental
KOSICE INTERNATIONAL FILM FESTIVAL APROL 2023
41. Best Experimental Film
42. Best Experimantal Film
ROSHANI INTERNATIONAL FILM FESTIVAL 2023
43. Best Experimental Film – Outstanding Achievements 1 st Rank.
NOMINEE
BEST EXPERIMENTAL FILM
BEST DANCE FILM
Best Film (Medium-Length)
Best Experimental Film
Best Dance or Poetic Film
Best Action
Sci-Fi or Fantasy (Best Fantasy)
Best Cinematography
Best Production Design / Art Direction
Best Costume Design
Best Makeup, Hairstyling & SFX
Best Experimental Film
Best Dance or Poetic Film
Best Fantasy
Best Medium Length Film
Best Costume Design
Best Cinematography
LONELY WOLF INTERNATIONAL FILM FESTIVAL LONDON 2023
Best Experimental Film
Best Dance or Poetic Film
Best Fantasy
Best Medium Length Film
Best Costume Design
SCREENING / OFFICIAL SELECTION
Brooklyn Film Festival 2017
Official Selection
Audi Dublin International Film Festival 2016
Special Screening – Dance on Film
Capital City Film Festival 2016
Official Selection
Camerimage International Film Festival 2015
Talent Demo
40th Gdynia Film Festival 2015
Official Selection
Festival de Cannes 2016
Marché du Film
Fastnet Short Film Festival
a Special Guest Screening